It might be challenging to manage the finances of a restaurant owner. Restaurant bookkeeping is essential to managing your finances and ensuring your restaurant is profitable. In this article, we will explore the importance of bookkeeping for restaurants, the benefits of hiring a bookkeeper, and how to do it right.
What is Bookkeeping? 
The process of logging, compiling, and maintaining financial transactions for a business is known as bookkeeping. Bookkeeping for restaurants is about keeping a record of all financial activities, including sales, outlays, and payments to suppliers and staff. For restaurants, bookkeeping is essential since it gives a clear picture of the company's financial health and identifies areas that require improvement.
Importance of Bookkeeping for Restaurants:
The significance of bookkeeping in the restaurant industry is underscored by the numerous transactions that take place there every day. Maintaining accurate books will allow you to monitor your cash flow and make sure you are turning a profit. Assessing your restaurant's financial health without good recordkeeping might be difficult.
Additionally, bookkeeping aids in the decision-making process for restaurant owners. For instance, by monitoring expenses, you can see places where prices can be cut without compromising the caliber of the meal or the level of service. On the other hand, keeping track of sales can assist in identifying popular menu items and aid in your decision-making over which meals to maintain and which to drop from the menu.
Benefits of Hiring a Bookkeeper for a Restaurant:
You can save time by employing a bookkeeper for a restaurant as the work of bookkeeping takes much time, and as a restaurant owner, you also have a lot of other responsibilities. A bookkeeper can handle all your bookkeeping requirements, freeing you up to manage your business.
Employing a bookkeeper for restaurants has another advantage in that they can give you useful information about your company's financial health. A bookkeeper can produce financial reports that can assist you in locating opportunities for cost-cutting, revenue growth, and profitability improvement.
A bookkeeper can also assist you in maintaining tax law compliance. A bookkeeper can ensure you adhere to the special tax regulations that apply to restaurants. Penalties and fines for not adhering to tax requirements may be expensive for your company.
Bookkeeping for Small Restaurants:
Bookkeeping for small restaurant is just as crucial as bookkeeping for larger establishments. It can be even more crucial for small eateries because every dollar counts.
If you manage a small restaurant, you may need more money to hire a full-time bookkeeper. In this situation, outsourcing restaurant bookkeeping services could be a sensible choice.
Small restaurants may benefit from outsourcing bookkeeping services because it frees them up to concentrate on expanding their enterprise. You may focus more on developing new menu items, enhancing customer service, and growing your clientele because you don't have to worry about handling your finances.
Choosing the Best Bookkeeper for Restaurants:
It's crucial to pick a bookkeeper with experience working with restaurants when looking for bookkeeping services for restaurants. The bookkeeper should know the restaurant business's unique accounting procedures and rules. A bookkeeper for a restaurant should have experience as well as be dependable and trustworthy.
The bookkeeper's proficiency with bookkeeping software is another important factor to consider. Most bookkeepers utilize accounting software to monitor financial transactions, so you should ensure the one you hire is adept at utilizing it. You can save time and simplify your financial management procedures by working with a bookkeeper who is experienced with bookkeeping software.
Ceptrum has the best bookkeepers who are specialized in Restaurants industry. Checkout our Services
How to Properly Handle Bookkeeping for Restaurants:
There are various measures you can take to handle bookkeeping for restaurants properly. Create a system for keeping track of money transactions first. This approach can be implemented using manual ledgers, spreadsheets, or accounting software. Make sure the system you choose is well-organized and simple to use.
Second, you must record all financial activities, including sales, expenses, and payments to suppliers and staff. These transactions must be timely and accurately recorded. Missing transactions could have an impact on your financial reports and tax filings. Therefore, you want to do something other than that.
Third, you should routinely reconcile your accounts. Compiling your accounts is known as reconciling your financial records and bank statements to make sure everything is in order. This process is essential for finding any inconsistencies or mistakes in your financial records.
Fourth, you must produce financial reports that outline your restaurant's financial health. Profit and loss statements, balance sheets, and cash flow statements are a few examples of these reports. These reports can give you useful information about your company's financial health and assist you in making defensible decisions.
Last but not least, you need to stay current on tax laws and due dates. Adherence to the unique tax regulations that apply to restaurants can result in penalties and fines. Maintaining organization and ensuring your tax returns are submitted on time is crucial.
Read More:
Conclusion:
In conclusion, managing your finances and ensuring your restaurant is profitable requires proper bookkeeping. Restaurants can gain a lot from hiring a bookkeeper, including time savings, insightful information about the company's financial health, and assurance of tax law compliance. Outsourcing bookkeeping services may be a sensible choice for small eateries. It's crucial to find a bookkeeper for restaurants with expertise in the restaurant business and knowledge of bookkeeping software. You can maintain track of your finances and make wise business decisions by adhering to the proper bookkeeping procedures.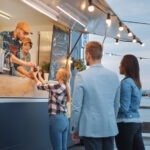 Bookkeeping for Food Trucks Prev post